Durban Botanic Gardens
The Durban Botanic Gardens is Durban's oldest public institution and the oldest botanic gardens in Africa. It was established in 1849 in order to participate in the Kew Garden's project to find new economically viable plant species. Today it covers an area of 15 hectares.
The gardens include a large variety of plant species. Among them are a large variety of cycads, ferns, orchids, bromeliads, and trees.
A visit to the gardens gives tourists the opportunity to relax and enjoy the beauty of plants that thrive in the sub tropical climate of Durban.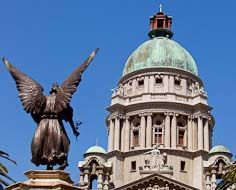 Duration
: 1 days, None nights
Tour Type
: City & day tours
Price: R630 per person (±US$ 45 )


Valid dates
: Nov 2016 - Oct 2017

Our Durban City Morning Tour departs daily from Umhlanga and Durban city hotels. Tour duration is ±4.5-hours and highlights include the Golden Mile (beachfront strip), the City Hall, the Botanical Gardens and an African-Indian market.

Highlights: Golden Mile , Durban Botanic Gardens , Durban .