Bonamanzi Private Game Reserve
Bonamanzi Private Game Reserve is bordered by the spectacular Lake St. Lucia, which is part of the iSimangaliso Wetland Park, and the magnificent Hluhluwe River. This privately owned game reserve and safari lodge is located in one of the best birding regions in South Africa.
Bonamanzi is situated in the North of the KwaZulu-Natal province in South Africa. It borders the St Lucia Lake and the Hluhluwe River. The name Bonamanzi is derived from the Zulu language meaning, "look water!"
Bonamanzi Game Reserve is easily accessible, it is a few hours drive from the Durban airport as well as the Golela border post with Swaziland, and is perfectly situated to explore the splendor of this area.
The Activities at Bonamanzi Game Reserve are under the escort of experienced guides who know the bush and its secrets well. They enjoy sharing legends, folklore and bush experiences with visitors. Understandably, one of the most popular activities is the boat cruises, a leisurely trip down the scenic Hluhluwe river, spotting a host of river birds.
Bonamanzi Game Reserve attractions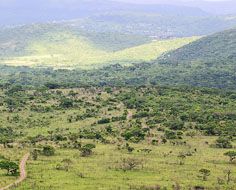 Hluhluwe-Imfolozi Park
The Hluhluwe-Imfolozi Park (prev. Hluhluwe-Umfolozi) is the oldest game reserve in Africa. It is situated in the North of the Kwa-Zulu Natal Province. It covers 96,000 ha of varied ecosystems. Relative to its size, Hluhluwe-Imfolozi is home to the largest population of the endangered white rhino in the world with between 1 500 and 2 000.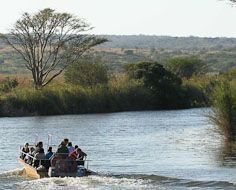 Hluhluwe
The small town of Hluhluwe in Northern Natal is popular because of its close proximity to the Hluhluwe-Imfolozi Park (previously called Hluhluwe-Umfolozi Game Reserve) and the iSimangaliso Wetland Park.