Ezulwini Game Lodge
The Ezulwini Game Lodge is situated at Hluhluwe on the north coast of the KwaZulu-Natal province. It is in close proximity to most of the attractions of Zululand of which it's wildlife, wetlands and culture are the most important. The Hluhluwe-Imfolozi Park, famous for saving the white rhino from extinction, is an approximate 20 minutes' drive from the lodge. Today the Park boasts the largest collection of white and black rhino in the world. It is also a haven for wild dogs, which is (also) an endangered specie.
The Isimangaliso Wetland Park, a UNESCO World Heritage Site, is situated within an easy drive from the Lodge. It includes the 35000 ha St Lucia Lake and the adjacent coastal area that stretches for 220 km from the Mozambique border to St Lucia. It was declared a World Heritage Site due to its global importance as conservation area.
The Lodge is situated on 300 ha of private game property and offers accommodation in 19 bedrooms, 4 chalets, 1 log cabin and 1 tree house. Other facilities include a lounge area (with television), dining room, bar, pool and boma.
Ezulwini Game Lodge attractions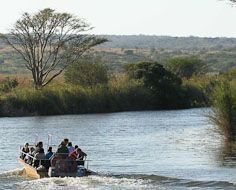 Hluhluwe
The small town of Hluhluwe in Northern Natal is popular because of its close proximity to the Hluhluwe-Imfolozi Park (previously called Hluhluwe-Umfolozi Game Reserve) and the iSimangaliso Wetland Park.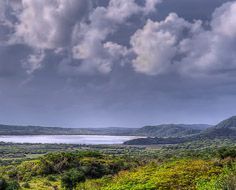 iSimangaliso Wetland Park
iSimangaliso Wetland Park is a UNESCO World Heritage Site that stretches along a coastal belt of 220 km and covers an area of 332,000 ha. It includes three major lake systems and five interlinking eco systems. It features a huge diversity of animal, plant and marine life.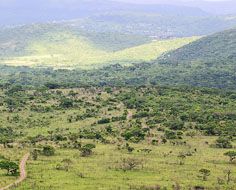 Hluhluwe-Imfolozi Park
The Hluhluwe-Imfolozi Park (prev. Hluhluwe-Umfolozi) is the oldest game reserve in Africa. It is situated in the North of the Kwa-Zulu Natal Province. It covers 96,000 ha of varied ecosystems. Relative to its size, Hluhluwe-Imfolozi is home to the largest population of the endangered white rhino in the world with between 1 500 and 2 000.