Vilakazi Street
Vilakazi Street in Soweto, South Africa, is the only street in the world that boasts two Nobel peace prize laureates to have lived in the same street.
Former president Mandela was born in the deep rural Xhosa region of the Eastern Cape. He studied at the University of Fort Hare and later at the University of the Witwatersrand in Johannesburg. He practiced law and became involved in the struggle against apartheid as president of the Youth League of the African National Congress. He and his comrades were tried for treason and incarcerated for 27 years until his release in 1990. In 1994 he became the first president of the new democratic South Africa. He was awarded the Nobel Peace prize jointly with FW de Klerk, the last president of the old South Africa.
Emeritus Archbishop Desmond Tutu was born in Klerksdorp in the western Transvaal. His father was a teacher and his mother was a cleaning lady. He became a teacher and later resigned in protest against the restrictions of the apartheid government on education for black people. He then trained to become a priest in the Anglican Church. He ultimately became the first black archbishop of the Anglican Church in South Africa. He was awarded the Nobel Peace prize in recognition for his role in the struggle for the oppressed.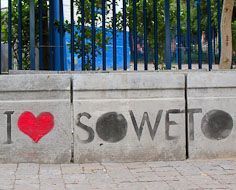 Duration
: 1 days, 0 nights
Tour Type
: City & day tours
Price: R795 per person (±US$ 57 )


Valid dates
: Nov 2016 - Oct 2017

Soweto is an incredible melting pot of cultures. Your tour include Freedom Square, the Regina Mundi Church, the houses of Pres. Mandela and Bishop Tutu as well as the Hector Pieterson Memorial and Museum.

Highlights: Soweto , Hector Pieterson Memorial and Museum , Vilakazi Street , Regina Mundi Church .

Vilakazi Street attractions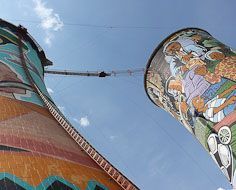 Soweto
Soweto, outside Johannesburg, is South Africa's largest "black township". It is home to a mix of languages and cultures from across South Africa and Africa. Soweto played an important role in the struggle against Apartheid. Landmarks include Nelson Mandela's Soweto house, the Hector Pieterson Museum & Memorial, etc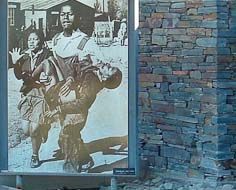 Hector Pieterson Memorial
The Hector Pieterson Memorial and Museum in Soweto, South Africa, commemorates the youth uprising of 16 June 1976. The Black Consciousness Movement of Steve Biko stimulated huge resentment against the oppression of black people under apartheid. The police responded with sharp ammunition. Hector Pietersen was the first of a large number of learners to be killed on that day.