Kruger House
The Kruger House Museum in Pretoria was the residence of Paul Kruger, president of the "Zuid Afrikaanse Republiek". the ZAR was one of the two boer republics that were founded after the great trek from the Cape Colony. This unimposing house contains furniture and memorabilia that reflects the lifestyle of the period.
Gold was discovered during the presidency of Paul Kruger. This led to a huge influx of foreigners that disrupted the mainly agricultural lifestyle of the boer republic. Ultimately Britain decided to go to war with the two small republics. At this stage Paul Kruger was an old man and his cabinet decided that he should leave for Europe to seek support for their cause. Although he found a lot of sympathy, it did not materialize in actual support.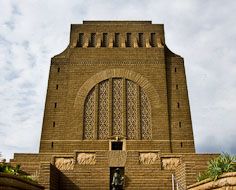 Duration
: 1 days, 0 nights
Tour Type
: City & day tours
Price: R1,000 per person (±US$ 72 )


Valid dates
: Nov 2016 - Oct 2017

Tour popular attractions in Pretoria, the Executive Capital of South Africa, including the Voortrekker Monument, Church Square, the Kruger House and the Union Buildings. The city was named after the Voortrekker (pioneer) leader Andries Pretorius. It borders Johannesburg to the north.

Highlights: Pretoria , Voortrekker Monument , Kruger House , Union Buildings .

Kruger House attractions
Pretoria
Pretoria is the executive Capital of South Africa. Pretoria was named after the Voortrekker (Boer pioneer) leader Andries Pretorius. It falls under the metropolitan municipality of Tshwane. The debate around changing the name of the city to Tshwane is ongoing (2013).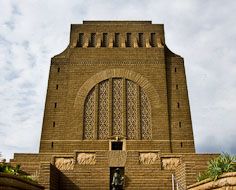 Voortrekker Monument
The Voortrekker Monument is situated on a hilltop to the south of Pretoria. Designed by Gerhard Moerdyk, the huge granite structure was inaugurated on 16 December 1948. It commemorates the historic "Great Trek" to the North by Dutch (Afrikaner) Boers in order to escape British rule in the Cape Colony.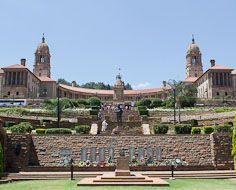 Union Buildings
The Union Buildings in Pretoria, South Africa, is home to the offices of the State President and the Department of Foreign Affairs. These imposing buildings were originally designed by Sir Herbert Baker for the recently founded Union of South Africa (1910). The inauguration of Nelson Mandela as the first president of the new democratic South Africa also took place at this venue.