Paarl Mountain
Paarl mountain dominates the town of Paarl. The name is derived from the Dutch word for a pearl. It refers to three huge boulders on top of the mountain that glisten like pearls in the sun after rain.
A prominent landmark is the Afrikaans Language Monument on the western side of the mountain. The Afrikaans language developed from a simplified form of Dutch that was used to communicate with Indonesian slaves whom the Dutch imported. For a long time it was scorned as ""kitchen Dutch" - even by Dutch settlers who spoke it as their home language. In Paarl, a society to work for the recognition of Afrikaans, was founded in 1875. As a result of their efforts the first Afrikaans translation of the Bible was published in 1933.
If you have an average level of fitness you can climb to the top of the main Pearl rock . A dirt road takes you to the base of the rock from where you climb it with the assistance of a chain. From the top of the rock you have magnificent views of the surrounding valleys and on a clear day you can see Table Mountain, 60 Km from there. Visitors who want to explore further can follow a wooden boardwalk and staircases, which lead down between two of the pearl rocks into the reserve beyond.
Paarl Mountain attractions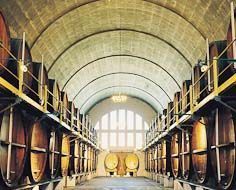 Paarl
The Town of Paarl is one of the three main centres in the Cape Winelands, rich in history and culture. The name Paarl means "pearl" and is derived from the granite boulders on top of Paarl mountain. A visit to Paarl is normally the first stop on a full day tour or the Cape Winelands.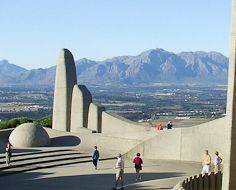 Afrikaans Language Monument
The Afrikaans Language Monument is a prominent landmark on the side of the Paarl ("pearl") mountain in the Cape Winelands in South Africa. This may arguably be the only monument ever erected for a language. It commemorates the history of one of the youngest and most modern languages in the world.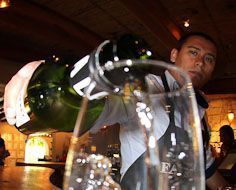 Paarl wine estates
South African wines are rated with those from the other top wine-producing regions in the world. The district of Paarl in the Cape Winelands boasts approximately 30 of the 100 plus estates in the Cape Winelands. Many of them cater for visitors with the opportunity of wine tasting.