Baviaanskloof
The Dutch name Baviaanskloof means "valley of baboons". This valley is in the Eastern Cape, South Africa. It lies between the Baviaanskloof and the Kouga Mountain ranges. The southernmost point of the valley is about 90 km from Port Elizabeth on the east coast of South Africa.
The Baviaanskloof includes a number of protected nature reserves to the total of about 500,000 hectares. The best known is the Baviaanskloof Nature Reserve, the third largest protected area in South Africa. In 2004 it was proclaimed part of the Cape Floral World Heritage Site. The whole of the valley is known for its wonderful natural beauty, its spectacular mountain shapes, diversity of plants and animals.
Baviaanskloof attractions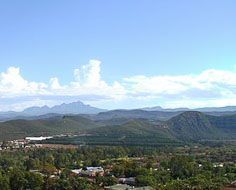 The Gamtoos River Valley
The Gamtoos River in the Eastern Cape, South Africa, is 645 km long, with a catchment basin of 34,635 sq km. The name "Gamtoos" is probably derived from the name of the Khoi-Khoi tribe that lived here when the first Dutch settlers arrived. The lower part of the valley is home to important citrus and vegetable farming.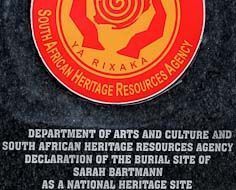 Saartjie Baartman
Saartjie Baartman, a Khoi-Khoi woman, was born in die Gamtoos River Valley in the late 1700's. She was a slave in service of a certain Peter Cezanne. She was taken to London in 1810 to be exhibited in a museum in London. She was later sold to the French where she was also put on display. She died in 1815.