Saartjie Baartman
Saartjie Baartman has become an icon of abuse of local inhabitants of the colonies of European Empires. She was born from a Khoi-Khoi family in the late 1700's and ultimately became a slave of a certain Peter Cezanne. A military surgeon of the British troops, Alexander Dunlop, collected animals specimens to sell for display in British museums. He suggested that Saartjie be taken to London as a specimen of the peculiarities of the Hottentot people. (The name "Hottentot" was given to the Khoi-Khoi by the Dutch before the British took over the Cape as one of their colonies. It is seen as an abusive term by the Khoi-Khoi people). Saartjie was put on show in London as the "Hottentot Venus". She was also used as a specimen for scientific study.
In 1814 she was sold to a Frenchman who took her to France for the same kind of spectacle and scientific study. She died on 29 December 1815 from an undetermined ailment.
During the late 1900's Saartjie Baartman became a symbol of the abuse Africans suffered. The Khoi-Khoi insisted that her remains be brought back to her homeland. Pres. Nelson Mandela formally requested that the French government return her remains to South Africa to be buried at Hankey in the Gamtoos River Valley where she was born.
Saartjie Baartman Grave attractions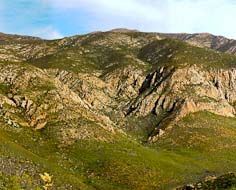 Baviaanskloof
The Dutch name Baviaanskloof means "valley of baboons". This valley is in the Eastern Cape, South Africa and lies between the Baviaanskloof and the Kouga Mountain ranges. The whole of the valley is known for its wonderful natural beauty, its spectacular mountain shapes, diversity of plants and animals.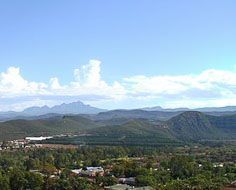 The Gamtoos River Valley
The Gamtoos River in the Eastern Cape, South Africa, is 645 km long, with a catchment basin of 34,635 sq km. The name "Gamtoos" is probably derived from the name of the Khoi-Khoi tribe that lived here when the first Dutch settlers arrived. The lower part of the valley is home to important citrus and vegetable farming.