Grahamstown
Grahamstown is the largest town in South Africa's Frontier Region. In the early 1800's this region became a crucible of South African history. Colonist Boer farmers gradually migrated eastwards developing farms and the Xhosa people moved southwards, occupying new land. When these two groups met, a number of frontier battles ensued. In 1820 Lord Charles Somerset, the governor of the Cape Colony, brought in British Settlers to form a buffer between the warring factions. Grahamstown developed from the military base that was intended to keep the factions at bay into a bustling town. The frontier situation and the way the Governor dealt with it led to a northward trek of a large number of dissatisfied Boers who wished to establish independent Boer Republics.
Today, Grahamstown has become a place where the contributions of these former enemies create a fascinating harmonious blend. The contributions of Khoi, Xhosa, English and Boer are visible in many ways. The mix of people and their cultures, the centrally placed imposing cathedral and the 'feel' of the city make Grahamstown an interesting town to experience. Grahamstown is also known for excellent educational institutions, ranging from the Rhodes University to private and public schools.
With Grahamstown as base, it is worthwhile to explore the surrounding frontier towns such as, Bedford, Adelaide, Fort Beaufort, Seven Fountains, Salem, Bathurst and Port Alfred.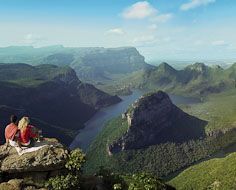 Duration
: 16 days, 15 nights
Tour Type
: Scheduled tours
Luxury Level
: *** / ****
Price: R32,500 per person sharing (±US$ 2,343 )
R10,900 single supplement (±US$ 785 )


Valid dates
: Nov 2017 - Oct 2018

The German-guided version of our tour that covers the highlights of South Africa (link to English tour provided as well). It provides a mix of cities, countryside, historical sites, scenic drives, nature, wildlife, culture and people. The southbound tour starts in Johannesburg and ends in Cape Town.

Highlights: Panorama Route , Blyde River Canyon , Kruger National Park , Swaziland , Hluhluwe-Imfolozi Game Reserve , St. Lucia , iSimangaliso Wetland Park , Transkei , Garden Route , Storm's River Mouth , Knysna , Cango Caves , Route 62 , Cape Winelands , Stellenbosch , Paarl , Cape Town .

Grahamstown attractions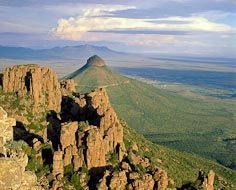 Eastern Cape
The Eastern Cape has an extremely beautiful ±820 km coastline with long stretches of deserted sandy beaches interspersed with rocky and sandy cliffs. Huge shifting dune fields are found in some areas and vegetated dune fields in others. It is a diverse Province with natural scenery ranging from barren semi-desert Karoo landscapes to rain forest covered mountain ranges.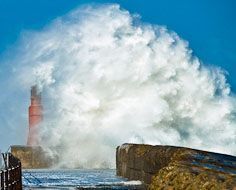 Port Alfred
Port Alfred is known as the Heart of the Sunshine Coast, situated halfway between Port Elizabeth and East London. The Kowie River runs through the town and it is the base for the large small boat harbour and a very successful residential marina development. The town boasts a wonderful blue flag beach and a great variety of water and ocean based activities.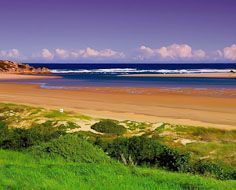 Sunshine Coast
The Sunshine Coast in South Africa stretches from the Tsitsikamma Reserve in the South to East London in the North. Aptly named the Sunshine coast, because it boasts more sunshine hours per year than the rest of sunny South Africa. This is due to the warm Mozambique current that runs along this coast and leads to the moderate temperatures.