Kowie River
The Kowie River in the Eastern Cape, South Africa, has its source in the Grahamstown heights and flows southeast until it empties into the Indian Ocean at Port Alfred. The main tributaries of the Kowie are the Bloukrans, Bak- and Lushington Rivers. The estuarine section of the river stretches from the mouth for 14 km inland. The little Kowie River, one of the smaller tributaries, flows into the Kowie, just above the estuary. Like most of the rivers in the Eastern Cape coast, it runs through deep gorge like valleys with densely overgrown riverbanks. The most notable among the vegetation are the River Euphorbias (Euphorbia triangularis) the Aloes and the prehistoric cycads (Encephalartos altensteinii).
In Port Alfred the Kowie River is the heart of many popular activities. The small boat harbour forms the base for a variety of water sport, including deep sea fishing, scuba diving, as well as skiing on the estuary. Fishing marine fish in the estuary is also very popular. Cruises up the river is on offer, as well as a canoe trail with overnight facilities. The latest innovation is the Kowie River open water one mile swimming event with all the proceeds donated to local charities.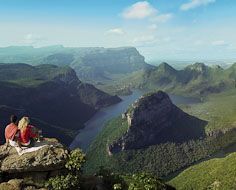 Duration
: 16 days, 15 nights
Tour Type
: Scheduled tours
Luxury Level
: *** / ****
Price: R24,240 per person sharing (±US$ 1,735 )
R6,085 single supplement (±US$ 435 )


Valid dates
: Nov 2014 - Oct 2015

This tour covers the highlights of South Africa and is ideal for first time visitors to the country. It provides a mix of cities, countryside, historical sites, scenic drives, nature, wildlife, culture and people. This is the 'southbound' tour version that starts in Johannesburg and ends in Cape Town.

Highlights: Panorama Route , Blyde River Canyon , Kruger National Park , Swaziland , Hluhluwe-Imfolozi Game Reserve , St. Lucia , Transkei , Hole-in-the-Wall , Garden Route , Storm's River Mouth , Knysna , Cango Caves , Route 62 , Cape Winelands , Cape Town .

Kowie River attractions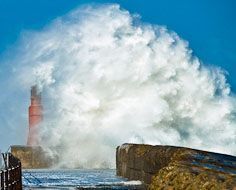 Port Alfred
Port Alfred is known as the Heart of the Sunshine Coast, situated halfway between Port Elizabeth and East London. The Kowie River runs through the town and it is the base for the large small boat harbour and a very successful residential marina development. The town boasts a wonderful blue flag beach and a great variety of water and ocean based activities.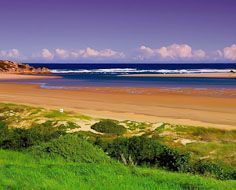 Sunshine Coast
The Sunshine Coast in South Africa stretches from the Tsitsikamma Reserve in the South to East London in the North. Aptly named the Sunshine coast, because it boasts more sunshine hours per year than the rest of sunny South Africa. This is due to the warm Mozambique current that runs along this coast and leads to the moderate temperatures.