Pondoland
Pondoland is located in the coastal part of the Eastern Cape province. It is situated in the former Pondo Kingdom and the traditional region of the Pondo people, one of the Xhosa speaking groups. Pondoland stretches between the Mthatha - and the Mtamvuna Rivers in the north along a coastal strip that is a maximum 50 km deep.

The Bushmen and Khoi Khoi people inhabited the region since ancient times in scattered nomadic groups. In the 16th century Pondo people settled in the area, the mountain grasslands were a good resource for their cattle.


The Silakal Coastal Reserve lies in a forested valley south of Port St Johns and stretches from Second Beach to Sugar loaf Rock. Trails lead through the evergreen forest and provide the opportunity to view a great variety of birds as well as a number of Zebra and antelopes.

The Nkambati Nature reserve is a 8,000 ha coastal reserve and consists mostly of open grassland dissected by perennial streams and flanked by the magnificent forested ravines of the Msikaba and Mtentu rivers. Grasslands cover a large portion of the reserve and support a fascinating and diverse flora. A large variety of herbivores are to be found here.

-->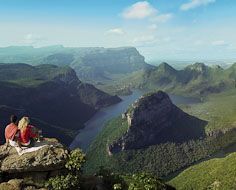 Duration
: 16 days, 15 nights
Tour Type
: Scheduled tours
Luxury Level
: *** / ****
Price: R24,240 per person sharing (±US$ 1,735 )
R6,085 single supplement (±US$ 435 )


Valid dates
: Nov 2014 - Oct 2015

This tour covers the highlights of South Africa and is ideal for first time visitors to the country. It provides a mix of cities, countryside, historical sites, scenic drives, nature, wildlife, culture and people. This is the 'southbound' tour version that starts in Johannesburg and ends in Cape Town.

Highlights: Panorama Route , Blyde River Canyon , Kruger National Park , Swaziland , Hluhluwe-Imfolozi Game Reserve , St. Lucia , Transkei , Hole-in-the-Wall , Garden Route , Storm's River Mouth , Knysna , Cango Caves , Route 62 , Cape Winelands , Cape Town .

Pondoland attractions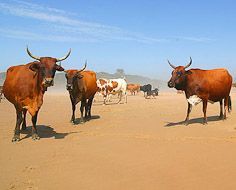 Transkei
While the former Apartheid homeland called 'Transkei does not exist anymore the region is still known by that name. The small village of Qumbu has the claim to fame of being the birthplace of Nelson Mandela. The Wild Coast is the region's biggest attraction, although accommodation facilities for tourism are very limited.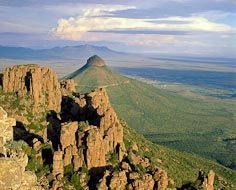 Eastern Cape
The Eastern Cape has an extremely beautiful ±820 km coastline with long stretches of deserted sandy beaches interspersed with rocky and sandy cliffs. Huge shifting dune fields are found in some areas and vegetated dune fields in others. It is a diverse Province with natural scenery ranging from barren semi-desert Karoo landscapes to rain forest covered mountain ranges.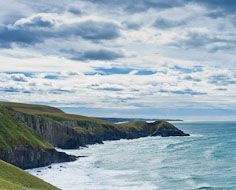 Wild Coast
The Wild Coast covers the north-eastern coastline of the Eastern Cape province and is part of the former homeland of Transkei. It is indeed quite "wild" with little infrastructure and almost no commercial development. This is the region's greatest attraction as well as its greatest drawback. Facilities for tourism is limited.