Bartolomeu Dias Museum
The Bartolomeu Dias Museum Complex in Mossel Bay is a popular tourist attraction. The Complex is located on a grass embankment overlooking the ocean near to the small Mossel Bay harbour and Santos Beach.
The Old Post Office Tree A large Milkwood tree, a national monument, on the grounds of the museum complex, marks the spot of what is thought to be the first postal activity in South Africa. In 1501 Joao da Nova discovered a letter, in a boot under the tree, left there a couple of months earlier by another Portuguese seafarer. The boot and tree "post office" kept going for some time acting as postal service. Today you can post a letter or post card in a boot-shaped post-box beneath the tree. The post office stamp will read "Old Post Office Tree".
Maritime Museum If you have time to explore only one of the museums in the complex this should be it. As its main exhibition the museum houses an exact replica of the Caravel (15th century wooden sailing ship) used by Bartolomeu Dias when he became the first European explorer to round the southern tip of the African continent. He did this in 1488 after setting sail from Portugal the previous year.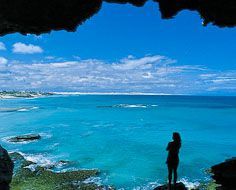 Duration
: 5 days, 4 nights
Tour Type
: Scheduled tours
Luxury Level
: *** / ****
Price: R13,625 per person sharing (±US$ 982 )
R800 single supplement (±US$ 57 )


Valid dates
: Dec 2014 - Oct 2015

This is a circular 5 day scheduled tour departing from Cape Town. Route 62 journeys through the valleys and mountain passes of the Klein Karoo. On the Garden Route you'll focus on Knysna You return to Cape Town via the Cape South Coast. Mountain scenery, wildlife, ocean and more.

Highlights: Oudtshoorn , Cango Caves , Route 62 , Garden Route , Knysna , Oudtshoorn ostrich farms , Mossel Bay , The Garden Route Game Lodge , The Bartolomeu Dias Museum , Swellendam , Hermanus , Cape Agulhas .

The Bartolomeu Dias Museum attractions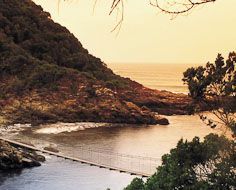 Garden Route
The Garden Route is a tourism paradise combining excellent infrastructure with scenic natural attractions. It comprises the narrow coastal belt on South Africa's south coast, stretching from the Tsitsikamma Forest in the east ±200 km to Mossel Bay in the west. It is named after the region's lush vegetation and mountainous scenery.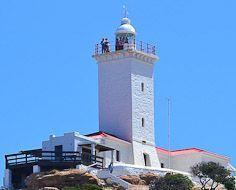 Mossel Bay
Mossel Bay features a small fishing and goods harbour. The harbour is home to a couple of operators who operate bay cruises, mostly to Seal Island off shore with opportunities to see penguins, dolphins and whales (in season). Some offer scuba diving and great white shark-cage diving.