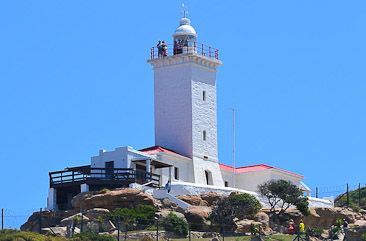 Day 3: Knysna to Albertinia via Mossel Bay (±160km)
Destination: Albertinia
Accomodation: The Garden Route Game Lodge
Meals included: breakfast and dinner
Attractions include: Garden Route , Mossel Bay , The Garden Route Game Lodge , The Bartolomeu Dias Museum , Albertinia .

After breakfast you depart for Mossel Bay, where Europeans first landed on (in modern terms) the South African east coast. A Portuguese explorer, Bartolomeu Dias, achieved this feat in 1488 in search of a trade route to India. He was the first European explorer to circumvent the southern tip of Africa.
Visit the Bartolomeu Dias Museum complex. On its grounds an old Milkwood tree has been declared a historical monument. The tree is where the first "postal service" in South Africa was operated in the 1500's. A sailor left a message for Commander Joao de Nova under the tree in a boot. You may post a postcard in a shoe-shaped post box below the tree.
The complex also features a full-sized replica of a Portuguese Caravel (a wooden sail ship used by the early explorers), which was sailed from Portugal to South Africa in 1988 on the 500 year anniversary of Dias' arrival in South Africa. Enjoy lunch in Mossel Bay
Your overnight destination is a game lodge near the town of Albertinia. The lodge is situated on farm land that is being rehabilitated for wildlife purposes. The game reserve differs from most others in the sense that predators are kept separate from other animals, until such future time that the growing ecosystem can support them. Yet, it offers the opportunity to see a variety of animals up close, including the "big five".
An evening and morning game drive is included in your tour price. Enjoy an outdoor dinner at the lodge (weather permitting).