Pilanesberg National Park
The Pilanesberg National Park is the fourth largest of the South African Game Reserves and is home to the big five. The park of 55,000 hectares is situated in an extinct volcano. It includes a variety of topographical features and a wide range of vegetation. The Park is home to the big five (lion, leopard, elephant, buffalo and rhino) and a large variety of antelope, hippos, baboons, apes and many other smaller animal and bird species.

Pilanesberg is a very popular tourist destination because of it's proximity to the Johannesburg metropolis. It is a mere two hour drive from Johannesburg and offers game viewing comparable to many other game reserves. The fact that it is malaria free and adjacent to the Sun City Holiday Resort adds to its popularity.
Accommodation at Pilanesberg ranges from camping and self catering chalets to 4 star lodges. IT is also an option to stay at one of the Sun City Hotels and visit the park from there. The camps also offer safari game drives in open vehicles.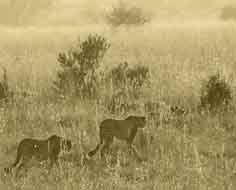 Duration
: 1 days, 0 nights
Tour Type
: City & day tours
Price: R2,635 per person (±US$ 190 )


Valid dates
: Nov 2016 - Oct 2017

The Pilanesberg Game Reserve Day Tour departs daily from Johannesburg in the early morning. On arrival at the Reserve you'll enjoy a brunch, followed by a 2.5 hour open safari vehicle game drive. Thereafter you continue exploring Pilanesberg by coach before returning to Johannesburg in the late afternoon.

Highlights: Pilanesberg National Park , North West Province .

Pilanesberg National Park attractions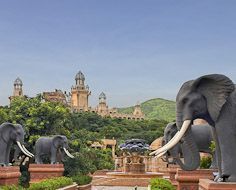 Sun City Resort
The Sun City Resort is a mere two hours drive from Johannesburg. It is situated adjacent to the Pilanesberg National Park, which makes for an ideal combination of relaxing at the resort and enjoying good game viewing at Pilanesberg. Sun City has three five star hotels and one three star hotel. It also offers a wide range of activities.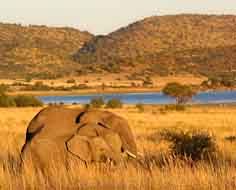 North West Province
North West is one of the nine provinces of South Africa and is situated west of the Johannesburg metropolis. Geographically it mostly consists of flat grassland, scattered with trees. The main mountain range is the Magaliesberg mountains. The most important tourist attractions are the Pilanesberg National Park and the Sun City Holiday Resort.