Sun City Resort
Commenting on the million dollar golf tournament that was held at Sun City, Gary Player said that he had the privilege to be at the top resorts all over the world and that he rates Sun City among the top five. The resort has three five star hotels and one three star hotel. Activities range from golf (on world class courses), to gambling, game viewing (Malaria free), hot air ballooning, surfing and much more.
Sun City is a mere two hours drive from Johannesburg, which makes it a popular destination for day visitors. The ultimate experience is to spend a few days relaxing at the resort and to make the most of what is on offer.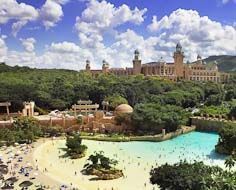 Duration
: 1 days, 0 nights
Tour Type
: City & day tours
Price: R2,370 per person (±US$ 170 )


Valid dates
: Nov 2016 - Oct 2017

Depart early morning from Johannesburg for a full day outing to Sun City in South Africa's North-West Province. The Resort offers everything from a huge artificial wave pool, beach and water rides to two championship golf courses, a casino, three five-star hotels, a kids entertainment area and much more.

Highlights: North West Province , Sun City Resort .

Sun City Resort attractions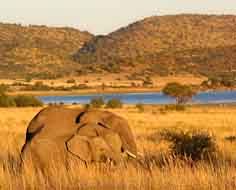 North West Province
North West is one of the nine provinces of South Africa and is situated west of the Johannesburg metropolis. Geographically it mostly consists of flat grassland, scattered with trees. The main mountain range is the Magaliesberg mountains. The most important tourist attractions are the Pilanesberg National Park and the Sun City Holiday Resort.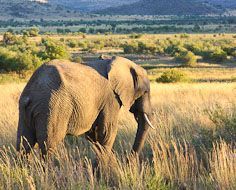 Pilanesberg National Park
The Pilanesberg National Park is the fourth largest of the South African Game Reserves and is home to the big five. The fact that it is within easy reach of Johannesburg and Pretoria adds to its popularity. A further attraction is that is situated adjacent to the Sun City Holiday Resort.