Hermanus whale watching
Hermanus is known as one of the best land based spots for whale watching. The steep coastal cliffs and the depth of the water make it possible for whales to come close to the land. In season, which is normally from June to December, the number of whales at Hermanus can be more than 100.
The number of whales has diminished sharply as a result of hunting them for their bones and blubber. Since it was banned 20 years ago, their numbers have increased considerably. The whales on the South African coast come from the Antarctic. They arrive here to give birth and to suckle their young. At birth a calf is 5-6 m in length and at maturity they can reach up to 16 m. Whales are said to reach ages of 100 years and more
Visitors can book boat trips to watch the whales up close and and there are also operators who offer the possibility to view them from the air. Boats have restrictions about how closely they may approach the whales. Dolphins and seals are normally also sighted on these trips. Whale watching is strictly controlled in order to protect them from been disturbed.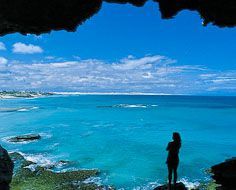 Duration
: 5 days, 4 nights
Tour Type
: Scheduled tours
Luxury Level
: *** / ****
Price: R13,625 per person sharing (±US$ 982 )
R800 single supplement (±US$ 57 )


Valid dates
: Dec 2014 - Oct 2015

This is a circular 5 day scheduled tour departing from Cape Town. Route 62 journeys through the valleys and mountain passes of the Klein Karoo. On the Garden Route you'll focus on Knysna You return to Cape Town via the Cape South Coast. Mountain scenery, wildlife, ocean and more.

Highlights: Oudtshoorn , Cango Caves , Route 62 , Garden Route , Knysna , Oudtshoorn ostrich farms , Mossel Bay , The Garden Route Game Lodge , The Bartolomeu Dias Museum , Swellendam , Hermanus , Cape Agulhas .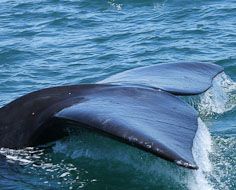 Duration
: 1 days, 0 nights
Tour Type
: City & day tours
Price: R1,050 per person (±US$ 75 )


Valid dates
: Nov 2017 - Oct 2018

The Hermanus day tour operates from July to November, during the annual migration of Southern Right Whales to our coastline. The tour includes scenic drives, a visit to a Penguin Colony and ample time for whale-watching.

Highlights: Hermanus , Betty's Bay African Penguins , Hermanus Whale Watching .

Hermanus Whale Watching attractions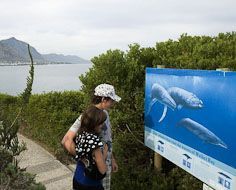 Hermanus
Hermanus is situated on the southern coast of the Western Cape, and is known as the best land based whale watching spot in the world. The Southern Right Whale comes to the South African coastal waters during winter and spring to have their young and to suckle them before returning to the Antarctic.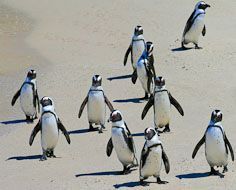 Penguins at Betty's Bay
African Penguins are classified as 'vulnerable" and are only found along the African Coast in the Southern Hemisphere. They normally colonize islands and are seldomly found on the the coast of the mainland. Stoney Point at Betty's Bay is one of only three such places and offers the rare opportunity to see them up close.