Saldanha Bay
The seaside village of Saldanha Bay is situated on the northern end of Saldanha Bay on the Cape West Coast in South Africa. The bay is the largest bay on the South African Coast and a centre for nature conservation and eco tourism. It is home to a multitude of birds including sea gulls, cape gannet, cormorants, 'duikers' and terns. The bay also offers excellent deep sea diving and whale watching opportunities.
The Saldanha Bay village is predominantly a fishing village producing fish, cray fish, oysters and seaweed. The harbour is dominated by the Sishen-Saldanha project. Iron ore is mined far inland in the Northern Cape and then transported by special trains to Saldanha for export. It is also home to a naval training base as well as a military academy.
The first European sea traders to arrive at Saldanha arrived about 500 years ago. Fossil evidence indicates humans lived here as far back as 117000 years ago. The nearby West Coast Fossil Park contains the richest collection of fossils in the world, including fossils of more than 200 species.
Paternoster, situated to the north of Saldanha Bay, is a popular place to visit. This cosy fishing village and traditional trading shop attracts many visitors. The same applies to 'Tieties Baai' (Bay), close to Paternoster.
Saldanha Bay attractions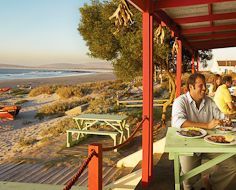 Paternoster
Paternoster, a small fishing village situated on the West Coast, is a popular weekend destination for Capetonians. The name Paternoster refers to the "our Father" prayer of Portuguese sailors who were shipwrecked in the area. The town is famous for its abundance of crayfish, its traditional fisherman's architecture and endless pristine sandy beaches.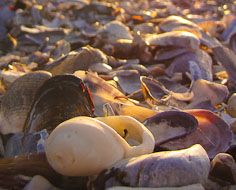 Cape Columbine Nature Reserve
The Cape Columbine Nature Reserve (263ha) is located on the West Coast Peninsula adjacent to Paternoster. It's is best known for the Cape Columbine Lighthouse (1936) and Tietiesbaai. Visitors can tour and ascend the lighthouse. The Reserve offers three basic accommodation options. Cape Columbine feature rocky coastline with small coves.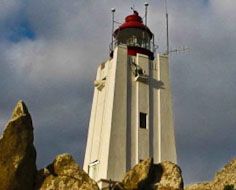 Cape Columbine Lighthouse
The Cape Columbine Lighthouse (1936) is popular with travellers heading to Paternoster on the West Coast Peninsula. Visitors can tour the lighthouse and ascend the spiral staircase to the top, where the light stands at a height of 80m above sea level and casts a beam visible for about 50km.