The Cape Columbine Lighthouse
The Cape Columbine Lighthouse is the first South African lighthouse encountered by ships sailing close enough to shore southwards along Africa's eastern shoreline. It is also a popular tourist attraction for travelers heading to the West Coast Peninsula (Langebaan, Saldanha, etc.), located close to the town of Paternoster.
The Lighthouse was completed in 1936 and stands on Castle Rock, a rocky outcrop. Before its construction various ships fell victim to the areas treacherous conditions, including the Heleric (1932), Haddon Hall (1913), Lisboa (1910), SS Saint Lawrence (1876), and the Columbine (1829). The Lighthouse and the surrounding Reserve, declared in 1973, inherited their names from the 1829 shipwreck.
The Cape Columbine Lighthouse is special in that it still has a full-time employed lighthouse keeper - which is unusual in modern times - and is also one of only four lighthouses in South Africa that offer accommodation. The latter is in a couple of self-catering cottages on the lighthouse's premises. Visitors can tour the lighthouse and ascend the spiral staircase to the top, where the light stands at a height of 80m above sea level and casts a beam visible for about 50km (Monday to Friday, excl. public holidays, from 10h00 to 15h00).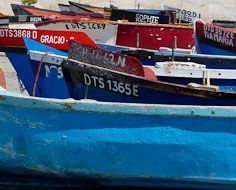 Duration
: 4 days, 3 nights
Tour Type
: Scheduled tours
Luxury Level
: ***
Price: R10,945 per person sharing (±US$ 789 )
R250 single supplement (±US$ 18 )


Valid dates
: Feb 2015 - Oct 2015

This tour gives you the opportunity to visit the Cape Winelands, taste some of our best estate wines and experience the special kind of West Coast hospitality and cuisine. Visit two factories at Clanwilliam producing two quintessential South African products: velskoene and rooibos tea. Overnight at the quaint Paternoster. Visit Saldanha Bay harbour and the West Coast National Park. In season you might enjoy vast expanses of indigenous flowers.

Highlights: Cape Winelands , Riebeek Valley , Paternoster , The West Coast , Cederberg Mountains & Wilderness Area , Bird Island Nature Reserve .

Cape Columbine Lighthouse attractions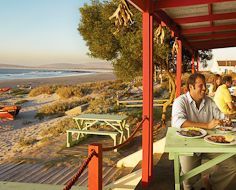 Paternoster
Paternoster, a small fishing village situated on the West Coast, is a popular weekend destination for Capetonians. The name Paternoster refers to the "our Father" prayer of Portuguese sailors who were shipwrecked in the area. The town is famous for its abundance of crayfish, its traditional fisherman's architecture and endless pristine sandy beaches.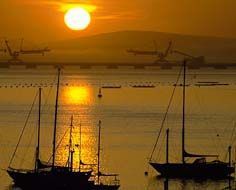 Saldanha Bay
The seaside village of Saldanha bay is situated on the northern end of Saldanha Bay on the Cape West Coast in South Africa. The Bay is the largest bay on the South African Coast and a centre for nature conservation and eco tourism.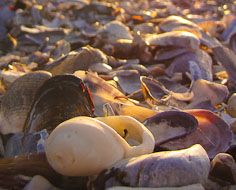 Cape Columbine Nature Reserve
The Cape Columbine Nature Reserve (263ha) is located on the West Coast Peninsula adjacent to Paternoster. It's is best known for the Cape Columbine Lighthouse (1936) and Tietiesbaai. Visitors can tour and ascend the lighthouse. The Reserve offers three basic accommodation options. Cape Columbine feature rocky coastline with small coves.