Paternoster
Paternoster is a small fishing village, situated on the Cape West Coast. It is a popular weekend destination for Capetonians and other locals. The name Paternoster refers to the "our Father" prayer of Portuguese sailors who were shipwrecked in the area.
The town is famous for its abundance of crayfish, its traditional fisherman's architecture and endless pristine sandy beaches. Whale and dolphin watching is a favourite pastime for 10 months of the year. After the Spring rains the landscape is transformed by the abundance of wild flowers which appear all over the landscape. Activities include long walks on the beaches, fishing, crayfish diving and spear fishing excursions, sea kayaking, mountain biking and hiking.
Close to Paternoster is the West Coast Fossil Park. It tells the story of millions of years ago when the region was covered with riverine forests and animals which roamed the forests but that have since become extinct. Fossils of more than 200 species of animals have been found here - one of the richest fossil finds in the world.
The Cape Columbine lighthouse is situated 5 km from Paternoster. It is the last manned lighthouse and was built in 1936. Its spiral staircase is high enough to provide incredible views over the Britannia reef and the Atlantic.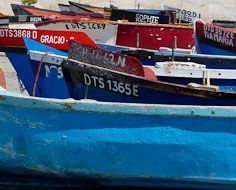 Duration
: 4 days, 3 nights
Tour Type
: Scheduled tours
Luxury Level
: ***
Price: R10,945 per person sharing (±US$ 789 )
R250 single supplement (±US$ 18 )


Valid dates
: Feb 2015 - Oct 2015

This tour gives you the opportunity to visit the Cape Winelands, taste some of our best estate wines and experience the special kind of West Coast hospitality and cuisine. Visit two factories at Clanwilliam producing two quintessential South African products: velskoene and rooibos tea. Overnight at the quaint Paternoster. Visit Saldanha Bay harbour and the West Coast National Park. In season you might enjoy vast expanses of indigenous flowers.

Highlights: Cape Winelands , Riebeek Valley , Paternoster , The West Coast , Cederberg Mountains & Wilderness Area , Bird Island Nature Reserve .