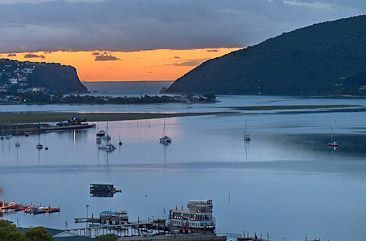 Day 2: Oudtshoorn to Knysna (±125km)
Destination: Knysna
Accomodation: Protea Hotel Knysna Quays
Meals included: Breakfast
Attractions include: Knysna , Cango Caves , Buffelsdrift Game Lodge , Knysna Estuary , Garden Route , Knysna Heads .

After breakfast you head to nearby Buffelsdrift Game Lodge where you have the unique opportunity of interacting with African Elephants. You'll get up close and personal with the elephants and participate in feeding them while receiving information on their status in the wild, their habits, biology, etc. Truly a special and educational experience.
Next is the Cango Caves in the foothills of the Swartberg Mountains, formed roughly 20 million years ago. It features huge natural caverns, linked by narrow natural passages and smaller spaces. Take a guided tour of part of the cave system.
From the Caves you head towards the coast over the rugged Outeniqua Mountains via the scenic Outeniqua Pass. Taking the main coastal road to Knysna you make a photo stop above the town of Wilderness (weather permitting). Enjoy expansive views of the ocean and sandy beaches stretching into the distance. Travelling onwards pass by a number of lakes and small communities before entering Knysna.
Your hotel is located right on the edge of the Knysna Estuary. Board a ferry for a sunset cruise out towards the Knysna Heads (headlands framing the estuary mouth). This evening you head into the small Knysna Waterfront, right next to your hotel, where you may dine (own account) at one of the various restaurants.