Moses Mabhida Stadium
The Moses Mabhida Stadium in Durban is a new and popular tourist attraction. The stadium is beautifully designed. Its main feature is an arch that spans the whole stadium and supports the roof. The top of the arch is 106 m (348 ft) above the pitch. It has a funicular that takes visitors to the top for wonderful views over the Indian Ocean and the city.
The stadium was newly built in preparation for the Soccer World Cup tournament, held in South Africa in 2010. It is designed as a multipurpose stadium with permanent seating for 54,000 that can be extended up to 80,000. It forms part of the Durban sports precinct that includes the Kings Park cricket stadium and the Kings Park rugby stadium.
Moses Mabhida Stadium attractions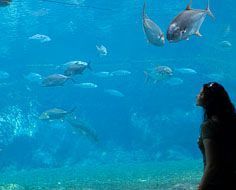 uShaka Marine World
uShaka Marine World, is situated on the Golden Mike in Durban. It opened it's gates to the public in 2004 and has since become one of the main attractions for visitors to Durban. It offers a safe and clean environment where visitors can enjoy a variety of entertainment options.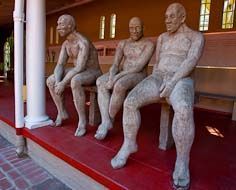 KwaMuhle Museum
The KwaMuhle Museum in Durban gives visitors the opportunity to get a better understanding of what apartheid entailed and how ordinary people participated in the struggle for freedom and human dignity. The current South Africa cannot be properly appreciated without an understanding of apartheid; what it was and how it affected the different communities.