Hibiscus Coast (South Africa)
South Africa's Hibiscus Coast, is located at the southern end of KwaZulu-Natal's South Coast and just north of the Wild Coast - about 90-minutes' drive south of Durban. It includes the towns of Hibberdene, Port Shepstone, Uvongo, Shelly Beach, Margate, Southbroom and Port Edward.
The warm Mozambiquen Current that flows down the KwaZulu-Natal coastline means that bathing is possible year round. The Hibiscus Coast features beautiful beaches, little coves and rock pools. The region features six Blue Flag beaches - Margate, Marina/San Lameer, Ramsgate, Trafalgar, Umzumbe and Lucien.
The warm ocean current plays a vital role in the subtropical climate and coastal-belt vegetation of province. Hibiscus plants flourish in sub-tropical climates and are very prominent in the area. From there the naming of the Hibiscus Coast. South Africa has about 60 indigenous Hibiscus species.
The region feature seven golf courses - including two of the top courses in the country, nature reserves and adventure tourism destinations and activities. Just inland from the coast Oribi Gorge provides spectacular scenery, hiking options and a number of adventure activities, including the world's biggest bungee swing and highest natural commercial abseiling site.
Virtually every year from May or July a mass pilchard migration takes place of the cost - know as the Sardine Run. Billions of Sardines move up the coast in shoals that typically measure 7km (over 4 mi) in length, a mile across and 30m (100ft) deep. It makes for a feeding frenzy with sharks and other predators following the shoals.
Hibiscus Coast attractions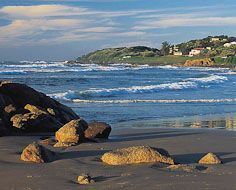 KwaZulu-Natal South Coast
The KwaZulu-Natal South coast in South Africa is a popular holiday destination for South African and international visitors. This stretch of coast offers a multitude of excellent swimming beaches that can be used all year round and also the regular viewing of dolphins and whales.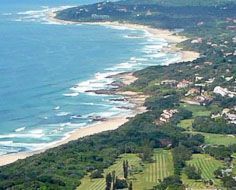 Southbroom
Southbroom is a small upmarket, coastal town on the Hibiscus Coast - part of the KwaZulu-Natal South Coast in South Africa. It features two bathing beaches, 4km's of mostly sandy coastline, the Southbroom Golf Course and the nearby San Lameer golf estate. Oribi Gorge is ±50km (±30mi) out of town.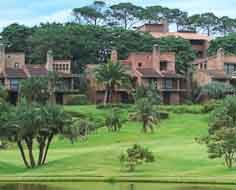 San Lameer
San Lameer is a golf estate directly south of Southbroom on the Hibiscus Coast section of South Africa's Kwazulu-Natal South Coast. It features an 18-hole championship golf course, privately owned luxury villas, an upmarket hotel and spa, a private lake and direct access to two Blue Flag beaches.