Arniston / Waenhuiskrans
The town of Arniston is situated on the south coast of South Africa in close proximity to Cape Agulhas, the southernmost tip of the continent. Initially it was only a fishing village, but it has now become a holiday destination and a region for viticulture. The original fishing village with its lime washed houses is maintained and has been declared a national monument in its entirety. Fisherman still venture into the sea with boats which are similar to those that were used in the early nineteenth century. Arniston has become a popular spot for whale watching in season, from May to September.
The original name for the town was 'Waenhuiskrans' (literally wagon house cliff) named after a hollow cave in the rocky cliff which is large enough to accommodate a wagon and oxen. Today both names are registered as official names of the town.
The name Arniston derives from a ship named Arniston which was wrecked on the rocks. It was sailing in a convoy to Ceylon to retrieve wounded soldiers. The Arniston lost contact with the rest of the convoy in a storm and ultimately got shipwrecked on the rocks at Waenhuiskrans. Only 6 of the 378 persons on board survived.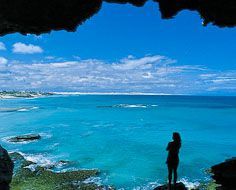 Duration
: 5 days, 4 nights
Tour Type
: Scheduled tours
Luxury Level
: *** / ****
Price: R13,625 per person sharing (±US$ 982 )
R800 single supplement (±US$ 57 )


Valid dates
: Dec 2014 - Oct 2015

This is a circular 5 day scheduled tour departing from Cape Town. Route 62 journeys through the valleys and mountain passes of the Klein Karoo. On the Garden Route you'll focus on Knysna You return to Cape Town via the Cape South Coast. Mountain scenery, wildlife, ocean and more.

Highlights: Oudtshoorn , Cango Caves , Route 62 , Garden Route , Knysna , Oudtshoorn ostrich farms , Mossel Bay , The Garden Route Game Lodge , The Bartolomeu Dias Museum , Swellendam , Hermanus , Cape Agulhas .

Arniston attractions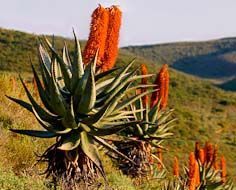 Albertinia
The peaceful small town of Albertinia is situated against the backdrop of the Langeberg Mountain Range on the Garden Route, on the National Road (N2) from Cape Town. The region is especially known for the prolific aloes (aloe ferox or Cape aloe) growing in this area.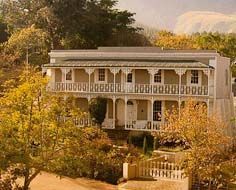 Swellendam
Swellendam is located at the foot of the Langeberg Mountains in South Africa's Overberg region of the Western Cape Province.
Swellendam is a medium-sized rural town. Its historic heart, which contains most of the town's architectural jewels, is spread over a relatively small area making a walking tour a viable option.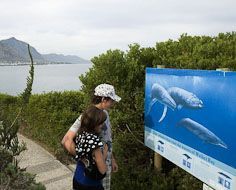 Hermanus
Hermanus is situated on the southern coast of the Western Cape, and is known as the best land based whale watching spot in the world. The Southern Right Whale comes to the South African coastal waters during winter and spring to have their young and to suckle them before returning to the Antarctic.