Boulders Beach Penguins
A colony of approx. 3000 African (Jackass) Penguins reside just outside Simon's Town at Boulders. Even though it is a residential area the thriving colony was born when two wild breeding pairs started breeding there in 1982. The success of the colony is partly due to the reduction of commercial pelagic trawling in False Bay. This increased the supply of pilchards and anchovy, which is part of the penguins' diet. Boulders forms part of the Table Mountain National Park, which incorporates Table Mountain and the Peninsula mountain chain from Signal Hill to Cape Point.
In recent years the authorities have instituted measures to protect the birds against negative human impact without impeding the visitors' ability to get close to these amazing creatures. Tourists can access the beach and view the wild penguins by means of raised wooden boardwalks, which allow the penguins to wander around unhindered.
Although wild, the penguins are used to humans being close to them as their environment has always been like this since the inception of the colony. Obviously one is not allowed to touch or feed the birds. This is a truly unique experience, with untamed penguins in very close proximity to humans.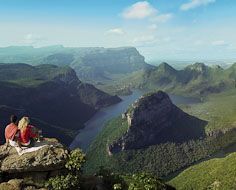 Duration
: 16 days, 15 nights
Tour Type
: Scheduled tours
Luxury Level
: *** / ****
Price: R24,240 per person sharing (±US$ 1,777 )
R6,085 single supplement (±US$ 446 )


Valid dates
: Nov 2014 - Oct 2015

This tour covers the highlights of South Africa and is ideal for first time visitors to the country. It provides a mix of cities, countryside, historical sites, scenic drives, nature, wildlife, culture and people. This is the 'southbound' tour version that starts in Johannesburg and ends in Cape Town.

Highlights: Panorama Route , Blyde River Canyon , Kruger National Park , Swaziland , Hluhluwe-Imfolozi Game Reserve , St. Lucia , Transkei , Hole-in-the-Wall , Garden Route , Storm's River Mouth , Knysna , Cango Caves , Route 62 , Cape Winelands , Cape Town .

Boulders Beach Penguin Colony attractions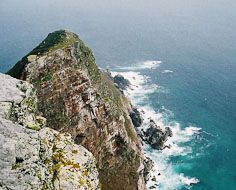 Cape Peninsula
Cape Town is situated on the Cape Peninsula. In 1580 Sir Francis Drake described the Cape Peninsula as "The most stately thing and the fairest Cape we saw in the whole circumference of the earth". A visit to Cape Town should always include a day tour of the Cape Peninsula.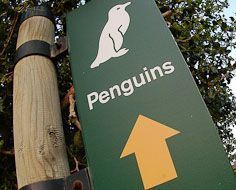 Simon's Town
Simon's Town, 40 km from Cape Town, is the headquarters of the South African Navy. It features a medium-sized harbour and at times a number of warships. The town has a collection of small museums, a couple of shops, some very nice restaurants and a variety of accommodation options.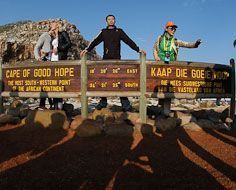 Cape of Good Hope Nature Reserve
The Cape of Good Hope Nature Reserve is the southern section of the Cape Peninsula, and includes three promontories at its southern most point: Cape Point, Cape Maclear and the Cape of Good Hope. The Reserve encompasses 7 750 hectares of rich and varied flora and fauna.