Cape Point
Many visitors to Cape Town flock to Cape Point because they believe that it is the Southernmost point of Africa. Whilst we strongly recommend a visit to scenic Cape Point, it is in fact not the southernmost point of the continent but the most southwesterly point. The Southernmost point of the continent, Cape Agulhas, lies ±200 km east and slightly south of Cape Point.
Cape Point marks the point where the mountain range extending southwards from Table Mountain, some 60 km away, eventually terminates in the Atlantic Ocean. The Point features steep cliffs and rough seas. It is extremely scenic. The best views are gained from the base of the lighthouse (1860) at the top of the ridge. From Cape Point's visitor's car park, you can either take a steepish path, with numerous stairways to the top, or you can take the Flying Dutchman Funicular. From the top one has a great view over False Bay to the east. On a clear day you can see right across to the Hangklip Mountain, which marks the other end of the Bay, approx. 30 km away. Towards the west you will look down onto Dias Beach and The Cape of Good Hope promontory.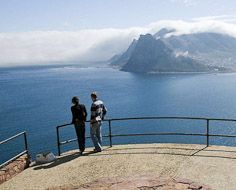 Duration
: 1 days, 0 nights
Tour Type
: City & day tours
Price: R1,500 per person (±US$ 108 )


Valid dates
: Nov 2017 - Oct 2018

On this tour you'll travel from Cape Town down the scenic Cape Peninsula's western coast, via Hout Bay & Chapman's Peak Drive to Cape Point. From there it's on to historic and quaint Stellenbosch in the Cape Winelands. You'll explore the town and enjoy a wine tasting at a nearby wine estate.

Highlights: Cape Winelands , Cape Point , Stellenbosch , Wine tastings at estates in South Africa , Chapman's Peak Drive , Cape Peninsula .

Cape Point attractions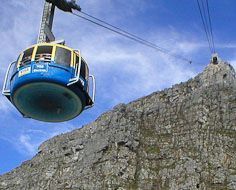 Table Mountain National Park
The Table Mountain National Park (TMNP) encompasses the incredibly scenic Peninsula mountain chain that stretches from Signal Hill and Table Mountain in the north to Cape Point in the south - a distance of some 60 km. The TMNP incorporates small marine reserves along the Cape Peninsula coastline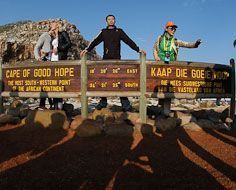 Cape of Good Hope
The Cape of Good Hope Nature Reserve is the southern section of the Cape Peninsula, and includes three promontories at its southern most point: Cape Point, Cape Maclear and the Cape of Good Hope. The Reserve encompasses 7 750 hectares of rich and varied flora and fauna.