Simon's Town
Simon's Town, 40 km from Cape Town, is the headquarters of the South African Navy. It features a medium-sized harbour and at times a number of warships. The town has a collection of small museums, a couple of shops, some very nice restaurants and a variety of accommodation options. The biggest drawcard for tourists is the town's close proximity to both the Boulders Penguin Colony and The Cape of Good Hope Nature Reserve.
History: The erstwhile Dutch Governor, Simon van der Stel, named this town after himself. It was established in 1687 as a winter anchorage harbour for the Dutch East Indian Company. In 1776 Lord Nelson, then a midshipman, passed through the harbour homeward bound from the East.
In 1795 the British occupied the Dutch Cape by sailing into the very same harbour. The first British adventure in the Cape ended in 1803 but they returned in 1806 to once more occupy the Cape. A hundred and fifty years of Dutch colonialism at the southern tip of Africa came to an end, to be replaced by 150 years of British colonialism. Simon's Town remained a British base until 1957, when it was handed over to the Union of South Africa.
Simon's Town attractions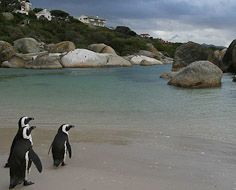 Boulders Beach Penguins
A colony of approx. 3000 African Penguins reside just outside Simon's Town at Boulders Beach. Even though it is a residential area the thriving colony was born when two wild breeding pairs started breeding there in 1982, Boulders Penguin Colony is one of the popular stops for tourists on the Cape Peninsula Tour.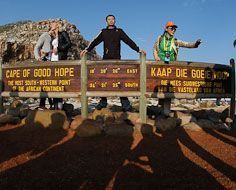 Cape of Good Hope
The Cape of Good Hope Nature Reserve is the southern section of the Cape Peninsula, and includes three promontories at its southern most point: Cape Point, Cape Maclear and the Cape of Good Hope. The Reserve encompasses 7 750 hectares of rich and varied flora and fauna.