Bird Island (West Coast)
Bird Island Nature Reserve lies just offshore from Lambert's Bay on South Africa's West Coast, ±241km north of Cape Town. The Island Reserve is about 100m from the mainland and connected by a harbour breakwater. Visitors access the island either via the breakwater or a short boat hop.
The Island is home to thousands of seabirds that breed there of which the majority are Cape Gannets, with Cape Cormorants coming in a close second. There's also a small penguin colony and occasionally seals as well. The Island's bird hide has recently been upgraded and allows close-up observations of the birds.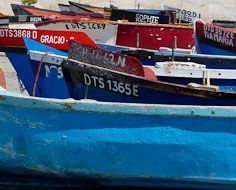 Duration
: 4 days, 3 nights
Tour Type
: Scheduled tours
Luxury Level
: ***
Price: R10,945 per person sharing (±US$ 789 )
R250 single supplement (±US$ 18 )


Valid dates
: Feb 2015 - Oct 2015

This tour gives you the opportunity to visit the Cape Winelands, taste some of our best estate wines and experience the special kind of West Coast hospitality and cuisine. Visit two factories at Clanwilliam producing two quintessential South African products: velskoene and rooibos tea. Overnight at the quaint Paternoster. Visit Saldanha Bay harbour and the West Coast National Park. In season you might enjoy vast expanses of indigenous flowers.

Highlights: Cape Winelands , Riebeek Valley , Paternoster , The West Coast , Cederberg Mountains & Wilderness Area , Bird Island Nature Reserve .

Bird Island Nature Reserve attractions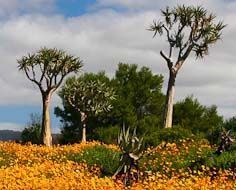 Clanwilliam
Clanwilliam is a town in the Western Cape situated in the Olifants River Valley. The town lies between the Cederberg Mountains to the east and the Clanwilliam Dam to the west. It is one of the ten oldest towns in South Africa and the town centre contains no less than 7 National Monuments.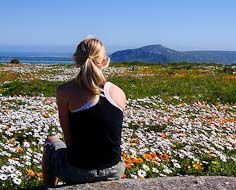 The West Coast
South Africa's western seaboard or The West Coast stretches from the outskirts of Cape Town the Namibian border in the north, along the way gradually changing from semi-arid vegetation to desert. The most popular section is the West Coast Peninsula (West Coast National Park, Langebaan, Saldanha, Paternoster, etc.).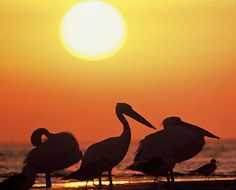 Lambert's Bay
Lambert's Bay is a small 'fishing' village on the West Coast of South Africa ±250km north of Cape Town. The northern gateway to the Cederberg Mountains, Clanwilliam, is a 30-minute drive away. It is best known for Bird Island featuring thousands of Cape Gannet and for the Muisbosskerm seafood-on-the-beach restaurant.