Clanwilliam
Clanwilliam is a town in the Western Cape situated in the Olifants River Valley. It is situated 240 km from Cape Town, right next to the national highway that links Cape Town with Namibia to the north. The town lies between the Cederberg Mountains to the east and the Clanwilliam Dam to the west. It is one of the ten oldest towns in South Africa. The town centre contains no less than 7 National Monuments. These include the old jail building, which is now a museum, and an 1820 Settlers house.
The endangered Clanwilliam cedar, after which the Cederberg Mountains range is named, is now under protection. Initiatives to restore it are under way at the Cederberg Wilderness Area, recently declared a UNESCO World Heritage site. The reserve has a mountainous terrain, popular with hikers and mountaineers.
The Living Landscape Project, a local empowerment venture, offers the opportunity of visiting different sites with Bushmen rock paintings and motifs.
One of the highlights on the Clanwilliam calendar is the annual Wild Flower Show in August/September. Other activities include water sports on the Clanwilliam Dam and 'Die Kunsthuis' ("the Art House").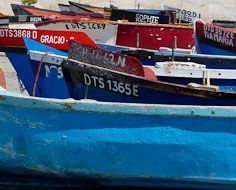 Duration
: 4 days, 3 nights
Tour Type
: Scheduled tours
Luxury Level
: ***
Price: R10,945 per person sharing (±US$ 789 )
R250 single supplement (±US$ 18 )


Valid dates
: Feb 2015 - Oct 2015

This tour gives you the opportunity to visit the Cape Winelands, taste some of our best estate wines and experience the special kind of West Coast hospitality and cuisine. Visit two factories at Clanwilliam producing two quintessential South African products: velskoene and rooibos tea. Overnight at the quaint Paternoster. Visit Saldanha Bay harbour and the West Coast National Park. In season you might enjoy vast expanses of indigenous flowers.

Highlights: Cape Winelands , Riebeek Valley , Paternoster , The West Coast , Cederberg Mountains & Wilderness Area , Bird Island Nature Reserve .