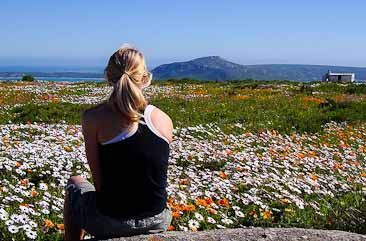 Day 3: Paternoster return via Lamberts Bay (±300km)
Destination: Paternoster
Accomodation: Paternoster Seaside Cottages
Meals included: Breakfast
Attractions include: Bird Island Nature Reserve , Lamberts Bay .

Today you travel along the coastline of South Africa's 'West Coast', a sparsely populated area dotted with quaint fishing villages. Head to Lamberts Bay. There's the option of tasting 'Bokkoms' - dried, salted fish - certainly not everyone's taste, but very popular in these parts. A milder option is curried fish.
Lamberts Bay is especially well known for Bird Island, connected to the mainland by a breakwater (not accessible if rough seas prevail). The island houses a Cape Gannet (bird) breeding colony and also provides shelter to thousands of Cormorants, as well as Penguins and Cape Fur Seals. The birds and island is conserved within a small nature reserve. For a small fee (own account) you can visit the Island's bird hide and get up close to the thousands of birds. There's also a small aquarium, penguin pool and curious shop on offer.
Lunch (for your own account) is to be enjoyed in Lamberts Bay, which is well known for its seafood. On returning to Paternoster you briefly head beyond town to the Cape Columbine Lighthouse, located on a rocky outcrop called Castle Rock. You have the option of ascending the spiral staircase inside and taking in the view from the top. Return to Paternoster for a leisurely evening, with dinner (own account) once again at Abalone House in the village.