South African History
South Africa has a rich and very interesting history. This incomplete summary is only to whet the appetite. A more complete concise history can be requested from Africa Deluxe Tours.

Some of the oldest hominid fossils were found in South Africa. When the Dutch arrived in present day Cape Town (1652) the local inhabitants were the Khoi Khoi and the Bushmen (San). The Northern and Eastern parts of the country were inhabited by different black tribes. Under Dutch rule the Dutch (Boer) settlement grew and expanded over a period of 150 years.


In 1806 the British took over the Cape as a British colony. During the same time conflict among the Black tribes to the Northeast evolved (called the Difaqane/Mfeqane). This disrupted the previous patterns of settlement.

In 1836 many Boers (Voortrekkers) wished to escape English colonial rule and decided to leave the colony and trekked Northwards. Two Boer Republics were founded. The discovery of Gold led to the Anglo Boer (South African) War between the British and the two Boer Republics (1899-1903). In 1910 the Union of South Africa was formed. In 1948 the National Party took control and instituted a policy of apartheid - oppressing citizens of colour.

Different liberation movements struggled for freedom. This ultimately led to negotiations by all parties for the transition to a democratic South Africa. In 1994 South Africa held its first democratic elections in which all citizens participated.

-->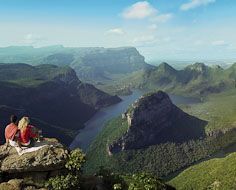 Duration
: 16 days, 15 nights
Tour Type
: Scheduled tours
Luxury Level
: *** / ****
Price: R24,240 per person sharing (±US$ 1,712 )
R6,085 single supplement (±US$ 429 )


Valid dates
: Nov 2014 - Oct 2015

This tour covers the highlights of South Africa and is ideal for first time visitors to the country. It provides a mix of cities, countryside, historical sites, scenic drives, nature, wildlife, culture and people. This is the 'southbound' tour version that starts in Johannesburg and ends in Cape Town.

Highlights: Panorama Route , Blyde River Canyon , Kruger National Park , Swaziland , Hluhluwe-Imfolozi Game Reserve , St. Lucia , Transkei , Hole-in-the-Wall , Garden Route , Storm's River Mouth , Knysna , Cango Caves , Route 62 , Cape Winelands , Cape Town .

South African History attractions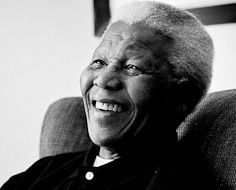 Nelson Mandela
Nelson Rolihlahla Mandela (1918-2013) was the first President of the "new" democratic South Africa (1994-1999). The key role he played in South Africa's peaceful transition can never be overestimated. He was a remarkable diplomat with a wonderful ability to win over his harshest critics. His sense of forgiveness and spirit of reconciliation was remarkable.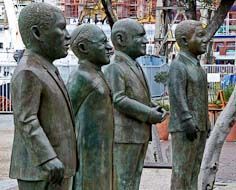 South Africans in history
South Africa, though a relatively young and small country, has produced a number of internationally acclaimed persons in the fields of politics, religion, business, literature, science and sport. Four South Africans have been awarded the Nobel Peace Prize: Albert Luthuli, Archbishop Desmond Tutu, President FW de Klerk, and President Nelson Mandela..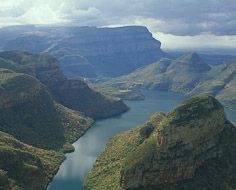 South Africa
Most tourists visit South Africa for a combination of three main features - the prolific wildlife, the rich cultural diversity and the sheer scenic beauty of the country. Add to this, new found racial harmony, a world icon such as Nelson Mandela, amazing adventure activities, a wonderful year round sunny climate, and more!