Nelson Mandela
Nelson Rolihlahla Mandela, fondly known by his tribal name "Madiba", was the first President of the "new" democratic South Africa (1994-1999). He was born on 18 July 1918 to the Xhosa-speaking Thembu royal family. He studied law at the Fort Hare University and the University of the Witwatersrand.

He became involved in anti-colonial politics and was a founder member of the Youth League of the African National Congress (ANC). After the National Party came to power in 1948 and implemented their policy of apartheid, he was prominent in the ANC's 1952 defiance campaign.

He was a member of the ANC leadership that stood in the Treason trial from 1956-1961. Initially committed to non-violent protest, he was co-founder of Umkonto we Sizwe in 1961 (the armed wing of the ANC) that bombed government targets. In 1962 he was arrested and convicted for sabotage and attempts to overthrow the government and sentenced to life imprisonment.

Having served 27 years of his life sentence on Robben Island, Pollsmoor and Victor Verster prisons, he was released in February1990. His leadership during the negotiations for a new democratic Constitution was remarkable. He became President after the first elections in 1994.

He will always be remembered for his iconic role in reconciling a South Africa that was always racially and ethnically divided. The peaceful transition to the new democratic South Africa could never have happened without Nelson Mandela.

He passed away on 5 December 2013 at age 95. The international media coverage of his funeral, that surpassed any previous similar events, emphasizes the iconic figure that he was.

-->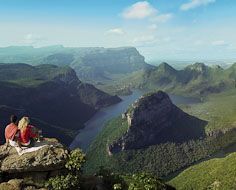 Duration
: 16 days, 15 nights
Tour Type
: Scheduled tours
Luxury Level
: *** / ****
Price: R24,240 per person sharing (±US$ 1,735 )
R6,085 single supplement (±US$ 435 )


Valid dates
: Nov 2014 - Oct 2015

This tour covers the highlights of South Africa and is ideal for first time visitors to the country. It provides a mix of cities, countryside, historical sites, scenic drives, nature, wildlife, culture and people. This is the 'southbound' tour version that starts in Johannesburg and ends in Cape Town.

Highlights: Panorama Route , Blyde River Canyon , Kruger National Park , Swaziland , Hluhluwe-Imfolozi Game Reserve , St. Lucia , Transkei , Hole-in-the-Wall , Garden Route , Storm's River Mouth , Knysna , Cango Caves , Route 62 , Cape Winelands , Cape Town .

Nelson Mandela attractions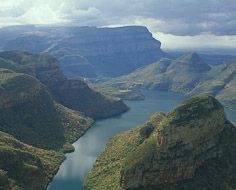 South Africa
Most tourists visit South Africa for a combination of three main features - the prolific wildlife, the rich cultural diversity and the sheer scenic beauty of the country. Add to this, new found racial harmony, a world icon such as Nelson Mandela, amazing adventure activities, a wonderful year round sunny climate, and more!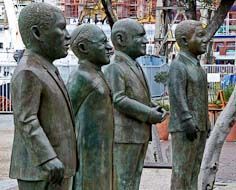 South Africans in history
South Africa, though a relatively young and small country, has produced a number of internationally acclaimed persons in the fields of politics, religion, business, literature, science and sport. Four South Africans have been awarded the Nobel Peace Prize: Albert Luthuli, Archbishop Desmond Tutu, President FW de Klerk, and President Nelson Mandela..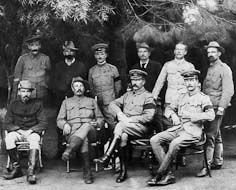 South African History
The history of South Africa is one of different struggles for freedom. Given the diversity of ethnic groups and languages this is understandable. The peaceful transition to a democratic South Africa in 1994, based on a Constitution that protects the human rights of all its peoples, can rightly be called a miracle.