Lisbon Falls
Mpumalanga features dozens of waterfalls, of which the highest - at 92m / 300 ft - is the Lisbon Falls. It's located a short way from Graskop and just off the R532. The latter is the main road for travellers exploring the very popular Panorama Route along the nearby escarpment and Blyde River Canyon. While not regarded as part of the Panorama Route, Lisbon Falls can easily be included on the same day.
The Falls is located on the Lisbon River where it falls from a plateau into a ravine. Lisbon Falls, the River and a nearby farm are all named after the capital of Portugal. Mpumalanga features many European town and city names - whether for towns or other features, mostly due to a 19th century gold rush. Thus two other nearby waterfalls are called the Berlin Falls and The Mac Mac Falls. The latter named for the many Scottish gold diggers who flocked to the area, many of whom had surnames starting with Mac or Mc.
Access to Lisbon Falls couldn't be easier with a road leading right up to the edge of the ravine. The Falls could be included in a day's touring as a quick stop, as it's clearly visible right from the little car park. Or you can linger and shop for arts and crafts from the traders that set up stalls daily, have a picnic or hike around the top of the Falls.
For the adventurous it is possible to find your way down to the bottom of the Falls and even take a swim in the pool and river below.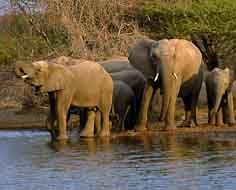 Duration
: 4 days, 3 nights
Tour Type
: Scheduled tours
Luxury Level
: ****
Price: R12,540 per person sharing (±US$ 904 )
R2,425 single supplement (±US$ 174 )


Valid dates
: Nov 2014 - Oct 2015

Our 4 Day Kruger Wildlife & Mountain Scenery Scheduled Tour departs from Johannesburg and lets you explore the Panorama Route, interact with elephants at Elephant Whispers, visit Shangana Cultural Village, view wildlife in the Kruger National Park, as well as Mthethomusha and go in search of wild horses at Kaapsehoop.

Highlights: Panorama Route , Blyde River Canyon , Kruger National Park , Elephant Whispers , Shangana Cultural Village , Mthethomusha Game Reserve , Kaapsehoop .