Swartland
The Swartland region is located just north of Cape Town and includes the towns of Malmesbury, Darling, Riebeek Kasteel, Riebeek West, Moorreesburg and Koringberg. Depending on who you talk to it may also include Porterville, Piketberg and Yzerfontein on the West Coast.
The region is best known for its vast wheat farms, but is also an important wine production area. In addition there are olive and fruit farms as well. The name "Swartland" or 'black land' is derived from the black colour of the indigenous Renosterveld vegetation during the hot and dry summer months.
Arguably the most popular destination in the Swartland for Capetonians is Darling, about an hour's drive north of Cape Town. It is home to Evita's Perron, a small independent theatre linked to Evita Bezuidenhout - the actor Pieter Dirk Uys' alter ego. The theatre and a little restaurant is located in the town's old train station.
The Riebeek Valley, at the foot of the Kasteelberg, includes the twin towns of Riebeek West and Riebeek Kasteel. About an hour north-east from Cape Town it is a popular getaway for artists and city folk looking to get out into the country.
The Swartland combines well with the West Coast, especially the West Coast Peninsula (Langebaan, Saldanha, Paternoster, etc.) and the Cederberg region (Citrusdal and Clanwilliam). It may be included as part of a circular tour from Cape Town or as part of a longer tour, for instance between Cape Town and Namibia.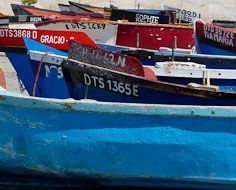 Duration
: 4 days, 3 nights
Tour Type
: Scheduled tours
Luxury Level
: ***
Price: R10,945 per person sharing (±US$ 789 )
R250 single supplement (±US$ 18 )


Valid dates
: Feb 2015 - Oct 2015

This tour gives you the opportunity to visit the Cape Winelands, taste some of our best estate wines and experience the special kind of West Coast hospitality and cuisine. Visit two factories at Clanwilliam producing two quintessential South African products: velskoene and rooibos tea. Overnight at the quaint Paternoster. Visit Saldanha Bay harbour and the West Coast National Park. In season you might enjoy vast expanses of indigenous flowers.

Highlights: Cape Winelands , Riebeek Valley , Paternoster , The West Coast , Cederberg Mountains & Wilderness Area , Bird Island Nature Reserve .