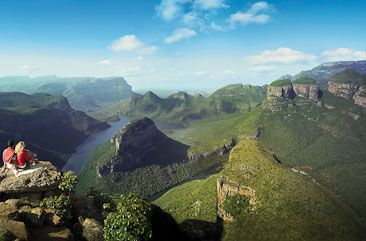 Day 2: Hoedspruit to Sabie via the Panorama Route (±145km)
Destination: Sabie
Accomodation: Lone Creek River Lodge
Meals included: breakfast and dinner
Attractions include: Panorama Route , Blyde River Canyon , Makalali Private Game Reserve , Three Rondavels Viewpoint , God's Window , Bourke's Luck Potholes , Wonder View , Graskop , Sabie .

When in the wilderness it's important to get out in the veld early. Enjoy some coffee / tea and light snacks before heading out on your open safari vehicle as soon as the first light breaks. If you're lucky some of the big cats may still be active or there may be a fresh kill from the night before. You'll have some sunrise drinks in the bush and later in the morning, after some exhilarating game viewing you return to the lodge for a hearty breakfast.
Depart Makalali and head back up the escarpment, via the Abel Erasmus Pass. The main focus for for the rest of today is on the Panorama Route, which includes a number of scenic vantage points atop the escarpment. Initially you'll travel along the Blyde River Canyon, the largest green canyon in the world.
The Three Rondavels Viewpoint is perched high above the Blyde River Dam and the Blyde River Canyon - providing spectacular views of both, as well as of the Canyon's open end with views onto the Lowveld. The viewpoint gets its name from three round buttresses on the opposite side of the Canyon, which happens to be the site of a very interesting battle - which your guide will tell you about. A little further, at the origin of the Canyon you'll visit Bourke's Luck Potholes, where an early explorer discovered alluvial gold. The Potholes lie at the confluence of the Treur ('Sorrow') and Blyde ('Joy') Rivers. Your guide will explain how the two rivers got their names.
Moving beyond the Canyon you'll make a stop at Wonder View or next-door God's Window (depending on your progress), the highest point on the Panorama Route, with views over the Lowveld far below. The vantage point is located on the edge of a steep escarpment.. Lunch will be somewhere enroute, probably at nearby Graskop (own account)
You end your day in the logging and tourism town of Sabie. Your hotel is located on the banks of the Sabie River. Enjoy dinner at the hotel.